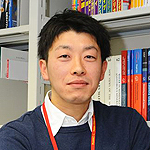 KITAZATO Kohei
Associate Professor
Affiliation

Department of Computer Science and Engineering/Division of Information Systems
Title

Associate Professor
E-Mail

kitazato@u-aizu.ac.jp
Education
Courses - Undergraduate

NS01 Dynamics
PL01 Intro. Programming
PL03 JAVA Programming I
FU11 Numerical Analysis
Courses - Graduate

ITC10A Practical Data Analysis with Lunar and Planetary Databases
Research
Specialization

Space and planetary sciences
High performance computing
Planetary Science, Astronomy, Remote Sensing
Educational Background, Biography

Ph.D., Earth and Planetary Sciences, The University of Tokyo, March 2008.
Research Fellow of the Japan Society for the Promotion of Science, Kobe University, 2008-2009.
Associate Professor, Research Center for Advanced Information Science and Technology (CAIST), The University of Aizu, 2009-2015.
Associate Professor, Department of Computer Science and Engineering, The University of Aizu, 2015-Present.
Visiting Associate Professor, Institute of Space and Astronautical Science (ISAS), Japan Aerospace Exploration Agency (JAXA), 2016-2018.
Current Research Theme

Hayabusa2 extended mission
Development of the Asteroid Discovery Application COIAS
Key Topic

Planetary Science, Planetary Defense, Planetary Resource
Affiliated Academic Society

Japan Society for Planetary Sciences, Astronomical Society of Japan, Japan Geoscience Union, American Astronomical Society
Main research
Dissertation and Published Works
Kitazato, K., Milliken, R. E., Iwata, T., Abe, M., Ohtake, M., Matsuura, S., Takagi, Y., Nakamura, T., Hiroi, T., Matsuoka, M., Riu, L., Nakauchi, Y., Tsumura, K., Arai, T., Senshu, H., Hirata, N., Barucci, M. A., Brunetto, R., Pilorget, C., Poulet, F., Bibring, J.-P., Domingue, D. L., Vilas, F., Takir, D., Palomba, E., Galiano, A., Perna, D., Osawa, T., Komatsu, M., Nakato, A., Arai, T., Takato, N., Matsunaga, T., Arakawa, M., Saiki, T., Wada, K., Kadono, T., Imamura, H., Yano, H., Shirai, K., Hayakawa, M., Okamoto, C., Sawada, H., Ogawa, K., Iijima, Y., Sugita, S., Honda, R., Morota, T., Kameda, S., Tatsumi, E., Cho, Y., Yoshioka, K., Yokota, Y., Sakatani, N., Yamada, M., Kouyama, T., Suzuki, H., Honda, C., Namiki, N., Mizuno, T., Matsumoto, K., Noda, H., Ishihara, Y., Yamada, R., Yamamoto, K., Yoshida, F., Abe, S., Higuchi, A., Yamamoto, Y., Okada, T., Shimaki, Y., Noguchi, R., Miura, A., Hirata, N., Tachibana, S., Yabuta, H., Ishiguro, M., Ikeda, H., Takeuchi, H., Shimada, T., Mori, O., Hosoda, S., Tsukizaki, R., Soldini, S., Ozaki, M., Terui, F., Ogawa, N., Mimasu, Y., Ono, G., Yoshikawa, K., Hirose, C., Fujii, A., Takahashi, T., Kikuchi, S., Takei, Y., Yamaguchi, T., Nakazawa, S., Tanaka, S., Yoshikawa, M., Watanabe, S., & Tsuda, Y. Thermally altered subsurface material of asteroid (162173) Ryugu. Nature Astronomy 5, 246-250 (2021). https://doi.org/10.1038/s41550-020-01271-2

Kitazato, K., Milliken, R. E., Iwata, T., Abe, M., Ohtake, M., Matsuura, S., Arai, T., Nakauchi, Y., Nakamura, T., Matsuoka, M., Senshu, H., Hirata, N., Hiroi, T., Pilorget, C., Brunetto, R., Poulet, F., Riu, L., Bibring, J.-P., Takir, D., Domingue, D. L., Vilas, F., Barucci, M. A., Perna, D., Palomba, E., Galiano, A., Tsumura, K., Osawa, T., Komatsu, M., Nakato, A., Arai, T., Takato, N., Matsunaga, T., Takagi, Y., Matsumoto, K., Kouyama, T., Yokota, Y., Tatsumi, E., Sakatani, N., Yamamoto, Y., Okada, T., Sugita, S., Honda, R., Morota, T., Kameda, S., Sawada, H., Honda, C., Yamada, M., Suzuki, H., Yoshioka, K., Hayakawa, M., Ogawa, K., Cho, Y., Shirai, K., Shimaki, Y., Hirata, N., Yamaguchi, A., Ogawa, N., Terui, F., Yamaguchi, T., Takei, Y., Saiki, T., Nakazawa, S., Tanaka, S., Yoshikawa, M., Watanabe, S., & Tsuda, Y. The surface composition of asteroid 162173 Ryugu from Hayabusa2 near-infrared spectroscopy. Science 364, 272-275 (2019). https://doi.org/10.1126/science.aav7432