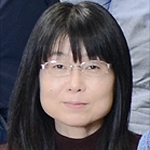 OGAWA Yoshiko
Senior Associate Professor
Affiliation

Department of Computer Science and Engineering/Division of Information Systems
Title

Senior Associate Professor
E-Mail

yoshiko@u-aizu.ac.jp
Education
Courses - Undergraduate

・ Introduction to Programming・ Calculus I [Re-take]・ Calculus II [Re-take]
Courses - Graduate

Practical Data Analysis with Lunar and Planetary Databases
Research
Specialization

Space and planetary sciences
Mathematical informatics
Statistical science
Earth and planetary science, especially surface processesLunar and planetary exploration Data analysis and visualizationGeophysicsInternal structure of planetary body Environmental changeNumerical simulation of material transport
Educational Background, Biography

B. S., 1997 The University of Tokyo M. S., 1999 The University of Tokyo Ph. D (Science), 2002 The University of Tokyo Post doctoral fellow, Earthquake Research Institute, The University of Tokyo, 2002-2003 COE research fellow, Kobe University, 2003-2004 Post doctoral fellow, University of California, Berkeley, 2004-2006 Post doctoral fellow, National Institute for Environmental Studies, 2006-2009 Associate Professor, The University of Aizu, 2009- Current.
Current Research Theme

Analysis of the data from Japanese lunar orbiter SELENE/Kaguya and global mapping of the mineral distribution on the MoonVisualization of the big data from SELNENE/Kaguya missionAnalysis of the data from Mars explorations and clarification of the subsurface structure of MarsAnalysis of the data from the Japanese Earth satellite ALOS/Daichi for monitoring of marsh water environment
Key Topic

Satellite remote sensing, Lunar and planetary explorations, Earth observation, Data analysis, Data visualization and analytics, Geophysical information system, Environmental studies
Affiliated Academic Society

The Japanese Society for Planetary Sciences, Japan Geoscience Unio, American Geophysical Uniom
Others
Hobbies

Travel, Reading books
School days' Dream

Pilot (narrow sense)
Current Dream

Pilot (broad sense)
Motto

Tomorrow is another day. Enjoy! If you want to continue something.
Favorite Books

Harry Potter series by J. K. Rowling
Messages for Students

Take a larger view! Discover new horizons with us!
Publications other than one's areas of specialization
Main research
Dissertation and Published Works
1. Ogawa, Y., Matsunaga, T., Nakamura, R., Saiki, K., Ohtake, M., Hiroi, T., Takeda, H., Arai, T., Yokota, Y., Yamamoto, S., Hirata, N., Sugihara, T., Sasaki, S., Haruyama, J., Morota, T., Honda, C., Demura, H., Kitazato, K., Terazono, J., Asada, N., The widespread occurrence of high-calcium pyroxene in bright-ray craters on the Moon and implications for lunar-crust composition, Geophys. Res. Lett., 38, DOI: 10.1029/2011GL048569, 2011.
2. Ohtake, M., T. Matsunaga, J, Haruyama, Y., Yokota, T. Morota, C. Honda, Y. Ogawa, M. Torii, H., Miyamoto, T. Arai, N. Hirata, A. Iwasaki, R. Nakamura, T. Hiroi, T. Sugihara, H. Takeda, H.
Otake, C. M. Pieters, K. Saiki, K. Kitazato, M. Abe, N. Asada, H. Demura, Y. Yamaguchi, S., Sasaki, S. Kodama, J. Terazono, M. Shirao, A. Yamaji, S. Minami, H. Akiyama, J. L. Josset, The global distribution of pure anorthosite on the Moon, Nature, 461, pp. 236-240, DOI: 10.1038/nature08317, 2009.
3. Matsunaga, T., M. Ohtake, J. Haruyama, Y. Ogawa, R. Nakamura, Y. Yokota, T. Morota, C. Honda, M. Torii, M. Abe, T. Nimura, T. Hiroi, T. Arai, K. Saiki, H., Takeda, N. Hirata, S. Kodama, T., Sugihara, H. Demura, N., Asada, J. Terazono and H. Ohtake, Discoveries on the lithology of lunar crater central peaks by SELENE Spectral Profiler Spectral Profiler, Gophys., Res. Lett., 35, DOI: 10.1029/2008GL035868, 2008.
4. Ogawa, Y. and M. Manga, Thermal demagnetization of Martian upper crust by magma intrusion, Geophys. Res. Lett., 34, 10.1029/2007GL030565, 2007.