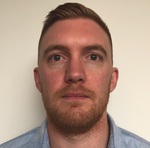 ベンソン スチュアート
BENSON Stuart
准教授
教育
担当科目 - 大学

Introductory English 2; Introductory English 3; Introductory English 4; High-frequnecy Vocabulary; Vocabulary: Theory and Practice
担当科目 - 大学院
研究
研究分野

言語学
EFL; ESL; Vocabulary Acquisition; Corpus Linguistics; English For Specific Purposes; Language in Sports; Formulaic Language; Need Analysis; Curriculum Design
略歴

Ph.D. in Applied Linguistics, Victoria University of Wellington, New Zealand, 2020
現在の研究課題

Investigating the lexicon of rugby spoken discourse.
研究内容キーワード

Vocabulary; English for Specific Purposes; Corpus Linguistics; Needs Analysis
所属学会
パーソナルデータ
趣味

Sports, especially rugby
子供時代の夢

Become a police office or and All Black
これからの目標

Help 2nd language rugby players and coaches overcome the language barrier.
座右の銘

Kia kaha
愛読書

'green Mile' by Stephen King
学生へのメッセージ

Don't be shy. Language can really be difficult and being scared to make mistakes is a normal feeling. But if you don't try, you wont succeed.
主な著書・論文
Benson, S. (2020). Dot the Pill down: Investigating the linguistic needs of foreign rugby players and lexicon of spoken rugby discourse. (Unpublished doctoral dissertation). Victoria University of Wellington, Wellington, New Zealand.