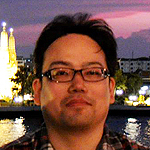 HONDA Chikatoshi
Associate Professor
Affiliation

Department of Computer Science and Engineering/Division of Information Systems
Title

Associate Professor
E-Mail

chonda@u-aizu.ac.jp
Education
Courses - Undergraduate

M2 Linear Algebra I [re-take]M2 Linear Algebra II [re-take]L5 CSE laboratories
Courses - Graduate

ITA23 Practical Data Analysis with Lunar and Planetary Databases
Research
Specialization

Space and planetary sciences
Mathematical informatics
Planetary SciencesLunar and Planetary ExplorationData analysis and numerical simulation for Lunar and Planetary Exploration
Educational Background, Biography

Education:
Doctor of Science, 2005, Kyushu University,
M.A. in Science, 1999, Kyushu University,
B.A. in Science, 1997, Kyushu University.

Research and Teaching Experiences:
2009.Apr. - Present, Assistant Professer, ARC-Space, CAIST, The University of Aizu.
2006.Apr. - 2009.Mar, Aerospace Project Research Associate, Japan Aerospace Exploration Agency.
Current Research Theme

Evaluation of crater spatial distribution (Clustering analysis, Voronoi diagram etc.).Quantitative analysis of lunar roughness and terrain classification for preparation of lunar geological map. Numerical simulation of lunar flood basaltic volcanism.
Key Topic

Planetary Science, Impact craters, Volcanism on the terrestrial planet and satellite.
Affiliated Academic Society

Japan Society for Planetary Sciences,The Seismological Society of Japan,Japan Geoscience Union,American Geophysical Union
Others
Hobbies

Camera, International travel.
Main research
Dissertation and Published Works
Ohatake et al. (2010), Space Science Reviews, 154, 57-77, "Deriving the Absolute Reflectance of Lunar Surface Using SELENE (Kaguya) Multiband Imager Data".
Ohtake et al. (2009), Nature, 461, 236-240, "The Global Distribution of Pure Anorthothite on the Moon".
Haruyama et al. (2009), Science, 323, 905-908, "Long-Lived Volcanism on the Lunar Farside Revealed by SELENE Terrain Camera".
Haruyama et al. (2008), Science, 322, 938-939, "Lack of Exposed Ice Inside Lunar South Pole Shackleton Crater".
Saito et al. (2006), Science, 312, 1341-1344, "Detailed Images of Asteroid 25143 Itokawa from Hayabusa".