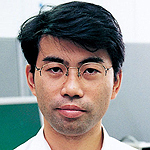 HISADA Yasuhiro
Associate Professor
Affiliation

Department of Computer Science and Engineering/Division of Information Systems
Title

Associate Professor
E-Mail
Education
Courses - Undergraduate
Courses - Graduate
Research
Specialization

Mathematical informatics
Life\, health and medical informatics
Biomedical engineering

Educational Background, Biography
Current Research Theme

I have been conducting research on the simulation of crystal growth process to support basic experiment on the production of high-quality semiconductors at zero gravity. Also, I have been engaged in research on electrocardiograms and electroencephalograms to find out connections between biosignals and body conditions as fundamental research to support pleasant human life.
Key Topic
Affiliated Academic Society
Main research
Scientific analysis of earth, lunar and planetary remote sensing data

So that we may learn more about the formation and the future evolution of our solar system, it is extremely important to analyze the remote sensing data captured by lunar and planetary explorers and earth observation satellites. Deploying software technology for analyzing data researched and accumulated by the University, our teams are making new discoveries in the field of earth planetary science and conducting further research into disaster prevention and the environment.