10/13/2006
On October 10, seven of the junior high school students and 3 leading teachers from Lee's summit, Missouri, U.S.A, which is a sister city with the city of Aizu Wakamatsu, visited UoA as part of the exchange program between the cities.
They took a tour on the campus with staff members of UoA and learned about facilities, attended Professor Murakawa's lecture at Language Media Laboratory(LML), learned about the systems and linguistics. After that, the students enjoyed M(Murakawa)-Project's CG works created by the students of UoA at 3D theater in University-Business Innovation Center(UBIC).
The students are now on a short-term homestay with local families and are leaving Aizu Wakamatsu on Saturday morning, October 14.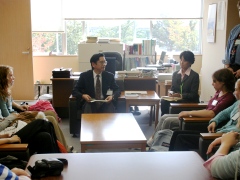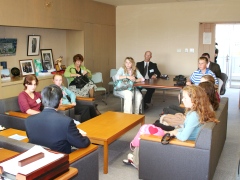 Meeting Mr. Akagi, Director General of the Administrative office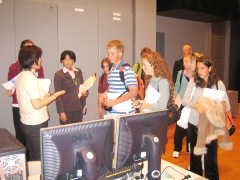 A tour on the campus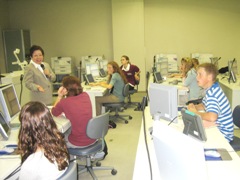 An interesting lecture by Prof. Murakawa at LML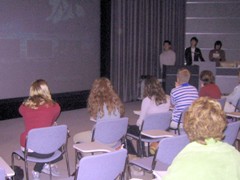 Watching short CG films and listening to students of UoA's comments on their works