Seven students of University of Aizu (UoA) had three-weeks short-term Oversea Programs from March 3 to 23 in 2013 at Rose-Hulman Institute of Technology in Indiana, USA on UoA's short-term Overseas Study Programs for Academic year 2012.
Here are their reports of their research and daily life in USA.
Participants
Grade during the program
Study Program
Yuhei Akama
I took part in the program at Rose-Hulman Institute Technology (RHIT) for 3 weeks to make sure of my English skill.
Regarding the classes, I thought they would be easy to understand because I already studied Computer Science. But my expectation was betrayed easily. First, I couldn't listen to and understand the English which people spoke because they spoke rapidly. Yet, I could understand when I studied the class' slides and asked some questions to the professor who spoke slowly. Moreover, there are many differences in quality and quantity of a class compared with the class of a University of Aizu. So I studied hard every day to understand what I was studying at RHIT. However, I felt a good atmosphere in the class because there was only a small distance between the professor and students.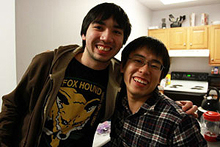 There are many difficulties in my daily life because I couldn't understand what they said and convey what I thought. For example, communication with my roommate, ordering in the restaurants and so on. I needed a few minutes for talking which should have taken a few seconds. I felt my communication depended on my partner. However, this problem had a good effect on my interest in English. The more I spoke English, the more deeply I found my fault. The more often I listened to English, the worse I realized my ears were for English I had. Nevertheless I always found something new and fun in real talking and listening. I didn't realize speaking English was important to acquire it until I talked with native speakers.
Meeting exchange students, for example Chinese, Korean and Brazilian was a good opportunity. I felt the ability to understand English was actually needed when they talked with native speakers using English. Also, I could have confidence that I could speak English fluently if I made an effort to study hard because students from Asia spoke English fluently.
I found my good points and weak points about English in this program. So, I am going to improve them. This experience was the most precious in my life, I really think. Probably, most of students will feel the same emotion if they take part in the program. I hope many students can take part in and apply to this program.
Sunao Kanada
I feel the study abroad in RHIT was too short. Everyday, I knew a lot of things and was so excited from the heart. Off course, There were many difficulties also. The speed of native English speaker was too fast for me. But I keep talking with them and I could feel my improvement of my English skill.
And I learned plenty American cultures also. For example, American people were so kind for me. In Japan, many people pretend as they don't realize another people in trouble. On the other hand, in America, people willingly help another people. and My friends in America take us many place. And thanks to that, I could spend so great days in America.
In Addition, I knew American guys really like basketball. There were many medias related with basketball. NCAA was popular as like as "Koshien" in Japan. And NBA had entertainment feature.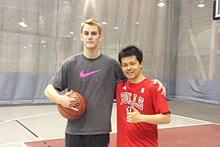 Finally, I strongly recommend junior fellow to study abroad. There are many difficulties actually. But It must become so great experience for you. If not now, then when?
Shunsuke Ishikuro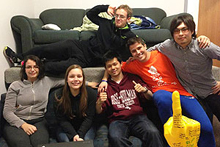 I visited RHIT to audit class for three weeks. I took five classes include kind of computer science, engineering management, mathematica and economics. It was very difficult to understand what teachers were saying because they speak very fast and I was in a tough situation, but it was a great experience for me.
Before the departure, I had three aims of this program.
Submit all assignments.
Ask questions at least 5 times in class.
Visit the career office.
As a result, I wasn't able to complete every aims. The most severe problem is my insufficient English skills.
In class, teachers speak very fast. In addition, teachers often make students discuss. I wasn't able to join any discussion, so my understanding became late. I fell into a vicious cycle: insufficient understanding in class, imperfect assignments and no preparation for next lesson, then I realized my actual English skills. Finally, I had to spend 6 hours a day on homework and I was able to answer only twice in class.
Also, I visited the career office. I found that almost all students go to internship programs in early grade. They work for several months and earn money. It sounds very good opportunity. I became to want to apply it.
After that, I became to study English hard and I found what will be a problem when I study abroad or apply for an internship program. I must improve especially listening and speaking skills. I couldn't realize their actual English skills on TOEIC or class. English teachers made up for my lack of English skills when they speak.
This program is a good chance for students who are considering study abroad also to get a degree. There is no risk to fail to make the grade but you can simulate. Some students regard this program as too short like sightseeing. Although, if you have a firm object, you can get a great benefit than you had imagined.
Takuya Kitazawa
The reason of my application for this short term overseas study program is because of a book. I had previously never thought about going to abroad. When I read the book in summer vacation, I thought about my life plan and possibility of going to abroad. At that precise moment, I found this program and applied. It's background of my application for this program.
One of my goals of this program was "To continue thinking" because I wanted to gain more things. As a result, I gained a lot of things, and I'm having a rethink about my life plan now.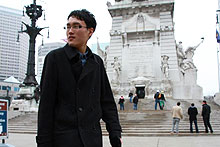 I was enthralled by American widely land, friendly people and heated atmosphere. In Rose-Hulman Institute of Technology(RHIT), professors who are humor and enthusiastic students were doing interactive classes. Simultaneously, every student is enjoying recreation truly. I was surprised by it. People who is in Rose-Hulman Institute of Technology are so kind. So, I spent so fun days. This three weeks has ?own so quickly. Besides, communication in English is so di?cult. I couldn't listen American English well.
I think these experiences were used as good nourishment in my life. Maybe, there will be many times to su?er future. But I think this experience becomes good information for making a decision. If I was said "What did changed in this three weeks?", I'll answer "Everything have changed!" From now, I want to advance to future slowly and steadily with this experience.
Yukari Sekiguchi
I stayed at Rose-Hulman Institute of Technology for three weeks. I had an incredibly interesting time, because there were so many surprising, funny, difficult, and thought-provoking experiences.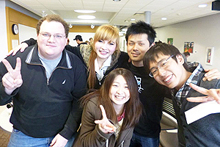 First, I want to talk about the classes. There were some classes everyday at RHIT. When I took a class for the first time, I was really surprised by their way that RHIT students take their classes. At the University of Aizu, the class style is mainly listening only, but it was quite different at RHIT. When a professor asked students whether we had any questions, the RHIT students always had a lot to say. Of course, they were always well-prepared, and I could learn from them that students should always do their best. So, after this first class, I tried to ask questions of professors and RHIT students. The most difficult thing was the pair work. There was a lot of team homework. It really took me a long time to understand and I thought that I gave my partner trouble, but as she was very kind and we were in the same dormitory, she was always patient and taught me whenever she had time. So, when we passed our homework and pair work, I was so glad. I thought that I should not forget this experience, and that I should study my best in Japan. From that time, I decided to change my way of preparing for classes and studying, and that I should speak my opinion, ask questions, and not forget to review lectures.
Next, I would like to talk about communication. When I talked with my roommates for the first time, I realized there was a wall of language which was very thick. However, I was very happy, because they talked to me about things in the dormitory, classes, their countries, and so on. Also, RHIT friends took Japanese students everywhere. There were so many funny things that I wanted to listen to in detail and I wanted to participate and say more and more. However, I couldn't tell them what I wanted to say, because of my limited vocabulary. I felt exasperated. When American people meet their friends, they ask "What's up?" So, when I was asked that by my roommate, I talked about my feeling. Then, she said "It's ok! Don't worry. You can speak step by step! I am listening and will teach you!". I was so glad. So, I tried my best to speak in English many times, and now I want to learn English much more. It was a very good experience for me that I had no other choice, but to speak in English. I could find a field in which I was interested. I had many worries before, but now, I feel many things in myself have changed.
Now, I would like to study hard and talk with international students and professors. I'll challenge myself in my field of study with my precious experience that I got through this program.
Keisuke Tamoi
In this spring vacation, I studied computer science at RHIT as an exchange student. In this paper, I'll show you about why I decided to join this program, life of America, and what I gained by study of abroad.
First of all, let me talk on the reason why I participate in the program. In fact, I had had a dream to do long-term study of abroad in the future before I joined this program. Then, I had thought that if I join this, I can gain a great experience and that's why I decided to join it. I felt it was difficult to learn foreign culture and English only in three weeks, but I made up my mind to do my best effort during my stay. Holding such mind, I went abroad.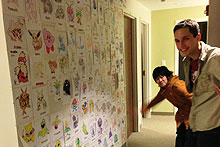 As of the life of overseas, it was a series of surprising. As is the case with the size of food, American food was so big than we had expected. In addition, there were other differences between Japan and America; for example, there was no separation of trash, there were no people who take an umbrella and so on. In such surroundings, I lived a life at dormitory. Compared with Somei-house dormitory in UoA, it was so big and I can remember it clearly because its decoration was very characteristic. Please look it by all means if you go to RHIT.
Also, I was surprised because I managed to make myself understood in English to some extent. When we go abroad, we often feel if we can make ourselves understood in English and we are worried about it. Of course, there are some difficulties in communicating in English like ordering at cafeteria and paying money at convenience store. However, these incidents enriched my experience and gave me confidence. It would be better for you to study how to order at stores in advance if you are interested in study or travel abroad.
In conclusion, these three weeks has changed my life drastically. Before I joined this program, I had wanted to go on to Japanese graduate schools. But now, I am interested in foreign graduate schools as well. After I came back to Japan, I've learned to think it is important to see Japan from outside and to see outside from Japan. If I have another chance to study abroad again, I'd like to try it.