Report on Int'l Short-Term Study Program for Academic Year 2006 from Mr. Akira Satou in Buffalo, NY, U.S.A
Mr. Akira Satou, a second - year student of the Doctoral Program of the Graduate School of School of Computer Science and Engineering at UoA is now doing his 2-month research (from January 22 to March 21)at State University of New York at Buffalo, U.S.A on UoA's International Short -term Study Program for Academic Year 2006.
Here is a report on his research and daily life in U.S.A.
A regular report from Buffalo, New York, U.S.A [2]
March 12, 2007
Only a few days are left for my stay in America. I spent much time on the research for about three weeks since I came here, then I stopped working and spend more on talking with the host family and people in the lab. In my view I come to speak English little by little. We often spend time on playing uno or chatting with watching TV.
We went sledding at a day on February when snow was not melt yet. It sounds like a child's play, but the hill we went was very steep so that speed was very fast, and it had many bumps, so it was really a hard play. Though all my muscle sore the next day, since then we became good friends.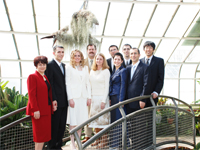 There is a couple in the family who had a wedding at the beginning of March, and I could attend it. I was very happy to be at the wedding only among the family. I send a picture of the family at the wedding. The second and third from the left is the couple. By the way, we went to Niagara Falls after the wedding.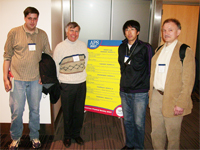 From March 7 to 9, I attended a conference, APS March Meeting 2007, which was held by American Physical Society, and made an oral presentation. The presentation was of course based on the research done during the stay in America. The scale of the conference was very large like even the number of speakers was over ten thousand, and talks of a variety of fields were given. I saw many talks related to my research field, and they were very stimulus for me. Also, I will give a 40-minute talk or so like a seminar at the university on March 13, which is a day before I will leave. I am looking forward to doing it because I had never had such an opportunity to make a presentation at other universities.
In conclusion, I would like to say briefly what I felt during the stay in America. My stay was not simply for English study because I spent a lot by my self on researching and preparing for presentations, nevertheless my English skill got much better by spending the time I can only use English. But more than that, I think the stay with the family itself is the best experience. At the beginning I didn't get used to the largeness of the family, but we became friendly by experiencing many things together, and I had a lot of fun. I couldn't have had such wonderful experiences if I wouldn't have stayed with the family. I was very happy staying America. I would like to take this occasion to thank: Center for Strategy of International Programs, University of Aizu, who supported my stay; Prof. Mitin, State University of New York at Buffalo (UB), who gave me the opportunity to stay and also who is a research collaborator during the stay; Prof. Ryzhii, University of Aizu, who too gave me the opportunity; Dr. Vagidov, UB, who is a collaborator and also who make me stay at his house, and his family. Thank you all very much.
A regular report from Buffalo, New York, U.S.A [1]
February 7, 2007
Two weeks have passed since I came to America and I am getting used to the life here. So here is my report on my life in America.
First of all, I met some trouble when I entered America. I will not tell a whole story, but I was suspected by officers at the immigration for more than an hour. They checked all my baggage and questioned me about almost everything for my visit. Finally they identified Dr. Vagidov, whose apartment I am staying, and released me. I was worrying for a while that they kick me out and I have to go back to Japan! After that there were no trouble, and the host family welcomed me at the airport.
The host family has 6 people. I am living with them without problems, though almost all people are young so I am not used to them yet. They are all kind, or more precisely they are friendly, so there is no trouble with them. Also there is no trouble with water and food. As for the conversation, very often I cannot catch what American people say, I can only speak a few words, so I have to accustom to it. And, as anticipated, I got a serious jet lag right after I arrived. Though I couldn't try the method like being in the sunshine because of the bad weather, in the daytime I went to the university and walked around when I got sleepy, in the night I forced myself to be in bed, and I repeated these. In a few days I was able to sleep little by little, and in about a week, I was able to fit in the time here.
I go to the university by someone's driving in the family. The university is very large and (perhaps) there are so many students here. I only go to a laboratory and shops though. The professor in the lab is kind, and he gives me the best environment for research, so for these two weeks I entirely concentrated on my research.
On holidays, the family takes me to the shopping, or we watch movies at home. I don't go sightseeing yet since it is very cold now and the snow stays around, though they said we can go when it gets warmer.
I was busy with the research so far, but from now on I am going to have more opportunities to communicate with people. I have more than a month, so I am going to have a lot of fun with the life in America.
Akira Satou