Report on UoA's short-term overseas study program at Rose-Hulman Institute of Technology, U.S.A
UoA started the new program which supports the students of UoA to study and research abroad. Five undergraduate students are now on this program at Rose-Hulman Inst. of Technology, Indiana, U.S.A.
Program Contents:
Auditing classes, cultural and academic exchange with the students and faculty of Rose-Hulman Inst. of Technology
Period:
September 10, 2006 ~ September 27, 2006
Student Delegates:
Five undergraduate students of UoA

Mr. Kenta Iseki (4th- year student, Dept. of Hardware)
Ms. Shino Himuro(4th-year student, Dept. of Hardware)
Mr. Yoshiyuki Igarashi(3rd-year student, Dept. of Software)
Mr. Toshihumi Masuda(3rd-year student, Dept. of Software)
Mr. Koichi Noda (2nd-year student, Dept. of Software)
Student's daily report from RHIT, U.S.A
September 15, 2006(Toshihumi Masuda)
"I am very impressed with the students and the classes here. We can see a lot of students study eagerly, flipping over textbooks and working on their PC's, all over as we walk around the campus. What surprises me the most is that most of the students are done with their preparation for the lesson beforehand and comes to a class without textbooks. All those things show that the students here has a great interest in studying and are highly conscious of their own purpose and goals. I would like to learn from them and make the most of what I learn from them and experience here back in Japan."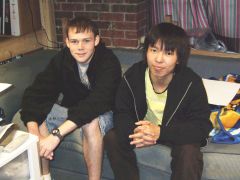 September 18, 2006(Yoshiyuki Igarashi)
"Sunny day. Not so humid. It is now 3:15p.m. I am taking several courses like Principles of Economics, Business & Ethics Engineering and Rhetoric and Composition. I kept being interested in learning Economics. So I make sure to prepare for each lesson like the other students here does. It usually takes about 4-5 hours to prepare for a 50-minute lesson. In today's Economic class, we had a discussion on the theme " Which will win in the market, Blue-ray or HD DVD?" In spite of my elaborate preparation, I could not present myself well during discussion. I was overwhelmed with the speed of discussion and couldn't even interrupt or persuade a speaker with my opinion because of my poor language skill.
One day at a restaurant, I had to eat oily Teriyaki Chicken, instead of "Tuna Sandwich" which I ordered. I was so irritated with my poor English. But everything here are exciting. There are ten more days to go. I want to experience as many things as I can."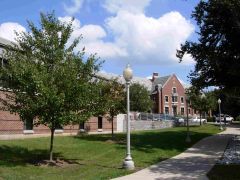 September 19, 2006(Shino Himuro)
"It's been eight days since we came to Indiana. We are getting more and more used to living here. It is a little chilly today and I am wearing long sleeves. But students here are in the cool classroom with air-conditioning on, wearing short sleeves. Our class starts at 8:05a.m and finishes at 4:20p. m. There is a 5-minute break between classes and students rushes into next classroom. The course I am taking here are Computer Graphics, Artificial Intelligence, Principles of Psychology and German Language & Culture. Professors of RHIT remember students' names well and call them by their names for speeches and presentations in class. I think this makes students more committed to class participation.
My roommates Kris and her friends and I went to a party last Friday. Before going, I felt so nervous and asked myself '"What are parties in America like? Is it O.K. for me to join?" Thanks to their encouragement, I became comfortable enough to join the party and had a good time.
I am planning to show the photos of Tsurugajyo Castle and Cherry trees in class tomorrow. I can't wait to see their reaction!"
September 19, 2006(Kouichi Noda)
"Meeting new people, learning new things...I am very happy being here. I received a warm welcome of student residents of the dorm when I arrived. What surprises me a lot is that security is well maintained in this area. Students usually don't lock the doors of their dorm rooms. Students leave their bags with a laptop PC unattended for lunch. It is amazing that robberies and stealing are hardly heard on campus.
What impressed me the most was the quality of classes provided here and how well the students get prepared for each class. Class participation counts much here and therefore we have a lot of comments and questions while in class, and they work very late till midnight. When we turn to Computer Science students, what differs from Aizu students is that most students here possess some degree of computer programming experiences prior to entering RH. Each student is well versed in at least one field of engineering, such as mechanical engineering and information science, and teaches each other for mutual benefit. I was appalled by one incredible engineering student who not just possessed eight PCs by himself, but devised to assemble his own video projector by his own design. I joining Japanese language and culture classes, no exception in that you find all students hard-working. Sharing pastimes like late-night movie shows as well, I am very happy to spend all these hours with the students here and want to make the most of the rest of my stay here."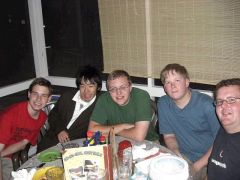 September 24, 2006 (Kenta Iseki)
RHIT has about 1,800 students. 15 kinds of degrees are available here. There are a lot of trees and ponds around the campus. It is very quiet and peaceful. Most of the students live in a dorm, grab something to eat at "Subway", the fast food restaurant, in the dorm and do little shopping at co-op called "Union". The campus life here is really convenient. RHIT has a great learning environment, for example, every students has their own laptop computers, wireless LAN is provided almost everywhere in the buildings on the Campus and library and Learning Center plays an important role supporting students to study efficiently. Classes here are really practical and of high quality. Students always work on their assignments late into the night during the week. But on weekends, they enjoy themselves. I'm still having a hard time because of my poor language skill. But I enjoy living, studying and experiencing cultural difference here.