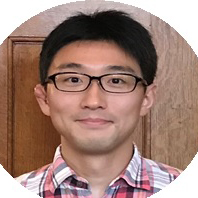 FUJIMOTO Yusuke
Associate Professor
Affiliation

Department of Computer Science and Engineering/Division of Computer Science
Title

Associate Professor
E-Mail

fujimoto@u-aizu.ac.jp
Education
Courses - Undergraduate

FU15 Introduction to Data Management [SR] [ex]
LI01 Computer Literacy [SR] [TGU]
MA03 Calculus I [SR] [Re-take]
Courses - Graduate

CSC08A Numerical Modeling and Simulations
Research
Specialization

Computational science
Astronomy, Astrophysics, Numerical simulations
Educational Background, Biography

2022 - present: Associate Professor, Department of Computer Science and Engineering, University of Aizu

2019 - 2021: Carnegie Postdoctoral Fellow, Earth and Planets Laboratory, Carnegie Institution for Science, USA

2018: Visiting researcher, Centre for Astronomy of Heidelberg University, Germany

2016 - 2019: Postdoctoral Researcher, Research School of Astronomy & Astrophysics, Australian National University

2015 - 2016: JSPS (Japan Society for the Promotion of Science) Research Fellow (DC2 Category)

2013 - 2015: Visiting student, Department of Astronomy, Columbia University, USA

2011 - 2016: Doctor of Philosophy (Science), Department of Cosmosciences, Graduate School of Science, Hokkaido University

2007 - 2011: Bachelor of Science (Physics), Department of Physics, School of Science, Hokkaido University
Current Research Theme

I am working in the fields of astrophysics, galactic astronomy, and Earth and planetary science, through large-scale numerical simulations using high-performance supercomputers. Specifically, while focusing on galaxy simulations and its code development for calculating the hydrodynamics of interstellar medium and the N-body gravitational systems of stars, I also actively collaborate with research groups in various fields internationally, including astronomical multi-wavelength observations and material analysis in Earth and planetary science such as meteoritics and geology.
Key Topic

Galaxy (Milky-Way), interstellar medium, molecular cloud, star formation, Solar system
Affiliated Academic Society

The Astronomical Society of Japan
Others
Hobbies

Jogging
School days' Dream

Astronomer
Current Dream

Understand the 4.6 billion years history of the Solar system in the Galaxy
Motto

Rome was not built in a day
Favorite Books

arXiv: astro-ph
Messages for Students

Enjoy your research!
Dissertation and Published Works
Fujimoto, Y., Inutsuka, S.-i., and Baba, J. (2023)
Efficient radial migration by giant molecular clouds in the first several hundred Myr after the stellar birth
MNRAS, 523(2):3049–3068

Fujimoto, Y., Krumholz, M. R., Inutsuka, S.-i., Boss, A. P., and Nittler, L. R. (2020)
Formation and evolution of the local interstellar environment: combined constraints from nucleosynthetic and X-ray data
MNRAS, 498(4):5532–5540

Fujimoto, Y., Krumholz, M. R., and Inutsuka, S.-i. (2020)
Distribution and kinematics of 26Al in the Galactic disc
MNRAS, 497(2):2442–2454

Fujimoto, Y., Maeda, F., Habe, A., and Ohta, K. (2020)
Fast cloud-cloud collisions in a strongly barred galaxy: suppression of massive star formation
MNRAS, 494(2):2131–2146

Fujimoto, Y., Chevance, M., Haydon, D. T., Krumholz, M. R., and Kruijssen, J. M. D. (2019)
A fundamental test for stellar feedback recipes in galaxy simulations
MNRAS, 487(2):1717–1728

Fujimoto, Y., Krumholz, M. R., and Tachibana, S. (2018)
Short-lived radioisotopes in meteorites from Galactic-scale correlated star formation
MNRAS, 480(3):4025–4039

Fujimoto, Y., Bryan, G. L., Tasker, E. J., Habe, A., and Simpson, C. M. (2016)
GMC evolution in a barred spiral galaxy with star formation and thermal feedback
MNRAS, 461(2):1684–1700

Fujimoto, Y., Tasker, E. J., and Habe, A. (2014)
Environmental dependence of star formation induced by cloud collisions in a barred galaxy
MNRAS, 445:L65–L69

Fujimoto, Y., Tasker, E. J., Wakayama, M., and Habe, A. (2014)
Do giant molecular clouds care about the galactic structure?
MNRAS, 439(1):936–953