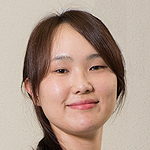 HEO Younghyon
Senior Associate Professor
Affiliation

Center for Language Research (CLR)
Title

Senior Associate Professor
E-Mail

youngheo@u-aizu.ac.jp
Education
Courses - Undergraduate

Listening & Speaking 1, Listening & Speaking 2,Reading & Writing 1, Reading & Writing 2,Speaking & Writing 3, English for Active Communication,Design of Human Language,Thesis Writing
Courses - Graduate
Research
Specialization

Teaching English as a Foreign Language (TEFL)PhonologySpeech Perception
Educational Background, Biography

Ph.D. in English (Language and Linguistics) University of Wisconsin-Milwaukee, May 2010
Current Research Theme

Learning stress/intonation patterns of English and marking phrasal boundaries in speech
Key Topic

Speech perceptionLoanword adaptationL2 phonology
Affiliated Academic Society

American Association for Applied Linguistics
Others
Hobbies

Travel
School days' Dream

I wanted to become a teacher.
Current Dream

Now I want to become a "good" teacher!
Motto

The world is your oyster.
Favorite Books

"The Good Earth" by Pearl S. Buck "The Alchemist" by Paulo Coelho
Messages for Students

The world is your oyster! You can become whatever you want to become.
Publications other than one's areas of specialization
Dissertation and Published Works
Dissertation: Vowel Insertion as Perceptual Intrusion in Loanword Adaptation
Heo, Younghyon & Hyowon Song. 2014. "The Influence of Native-like Parsing Practice on Reading Comprehension," Proceedings of The 5th Conference on Teaching and Learning of English in Asia. to appear.
Kaneko, Emiko, Younghyon Heo, Gregory K. Iverson & Ian Wilson. "Quasi-neutralization in the Japanese Acquisition of English Coronal Fricatives," Journal of Second Language Pronunciation. to appear.
Heo, Younghyon & Hyowon Song. 2014. "The Influence of Partner Acquaintanceship in an EFL Speaking Test," Journal of Language Sciences 21(2).193-210.
Heo, Younghyon & Hyowon Song. 2013. "The Effect of Familiarity between Partners on EFL Oral Performance," Applied Linguistics in Asia: Global and Local Perspectives. Seoul: Hankuk Munhwasa, pp. 360-362.
Heo, Younghyon & Hanyong Park. 2012. "American Learners' Identification of Korean Vowel Categories," Harvard Studies in Korean Linguistics XIV: Harvard-Yenching Institute, pp. 77-84.