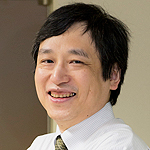 NISHIMURA Satoshi
Senior Associate Professor
Affiliation

Department of Computer Science and Engineering/Division of Information Systems
Title

Senior Associate Professor
E-Mail

nisim@u-aizu.ac.jp
Education
Courses - Undergraduate

Computer Architecture
Logic Circuit Design
Courses - Graduate

3D Computer Graphics and GPU Programming
Research
Specialization

High performance computing
Perceptual information processing
Architecture and Algorithms for Computer Graphics
Systems for Computer Music
Educational Background, Biography

2003: Associate Professor (renamed to Senior Associate Professor in 2007), School of Computer Science and Engineering, University of Aizu
2000: Researcher, School of Engineering, University of California, Irvine
1995: Doctor of Science degree in information science, the University of Tokyo
1994: Assistant Professor, School of Computer Science and Engineering, University of Aizu
1989: Master of Science degree in information science, the University of Tokyo
1987: Bachelor of Engineering degree in communication engineering, Tohoku University
Current Research Theme

Pallel Algorithms and Architecture for Computer Graphics / Special Hardware for Real-Time Ray Tracing / Description Languages for Music.
Key Topic
Affiliated Academic Society

ACM, IEEE, and IPSJ
Dissertation and Published Works
Satoshi Nishimura, "Takt: A read-eval-play-loop interpreter for a structural/procedural score language," Proc. of the 40th International Computer Music Conference, 2014.
Satoshi Nishimura, "RayFlow: A Pipelined Architecture for Real-Time Ray Tracing," Journal of 3D Images, 2001.
Satoshi Nishimura and Tosiyasu L. Kunii, "VC-1: A Scalable Graphics Computer with Virtual Local Frame Buffers," ACM Computer Graphics (Proceedings of SIGGRAPH '96), 1996.