On Tuesday, May 23, 2023, the University of Aizu and Transaction Media Networks, Inc. signed the collaboration agreement to strengthen mutual cooperation and contribute to the development of both parties through initiatives that utilize purchase data from the POS system, various data acquired on campus, and IoT technology.
The details of the collaboration are as follows.
(1) Industry-academia collaboration in data analysis and utilization
(2) Research and development and technical support in the field of IoT
(3) Technical support for system development 
(4) Human resource education and training in IT-related technologies
(5) Other matters deemed necessary for mutual coordination and cooperation
The ceremony was attended by Atsushi Otaka, President, Takeshi Tanimoto, Vice President, Masayoshi Okajima, General Manager of the Information Processing Division from Transaction Media Networks,Inc. and Jiro Iwase, Regent, Hitoshi Sato, Deputy Secretary General, and Keisuke Hata, Associate Professor from the University of Aizu.
In addition, Toshiaki Terushima, Representative Director of Student Life Support Y.K., an affiliated company, and Masahito Hiratake, General Manager, Digital Innovation Center, Mitsubishi Corporation were also in attendance.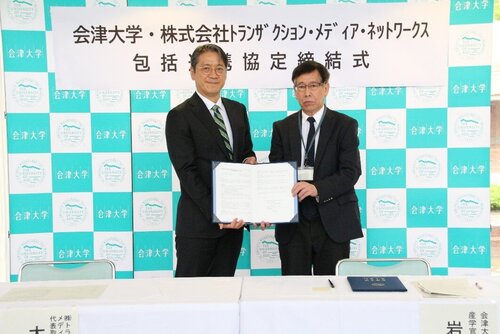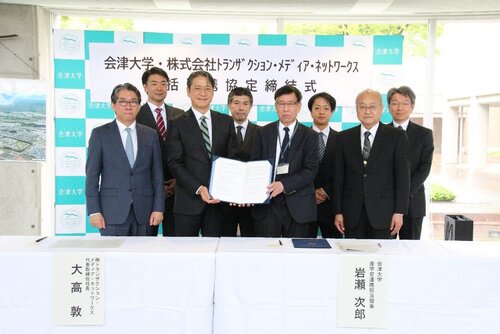 (Front row) From left: Director Hiratake, President Otaka, Regent Iwase, Representative Director Terushima
(Back row) From left: General Manager Okajima, Vice President Tanimoto, Associate Professor Hata, Deputy Secretary General Sato
■Click here for press release material *Japanese only