On Monday, October 3, 2022, the autumn entrance ceremony for the 2022 academic year was held. A total of 46 new students, 17 to the undergraduate school, 23 to the master's program, and 6 to the doctoral program were declared to admit by President MIYAZAKI Toshiaki.
 Ms. PENG Yuhan (master's program) made an oath on behalf of the new students admitted to the undergraduate school and the graduate school.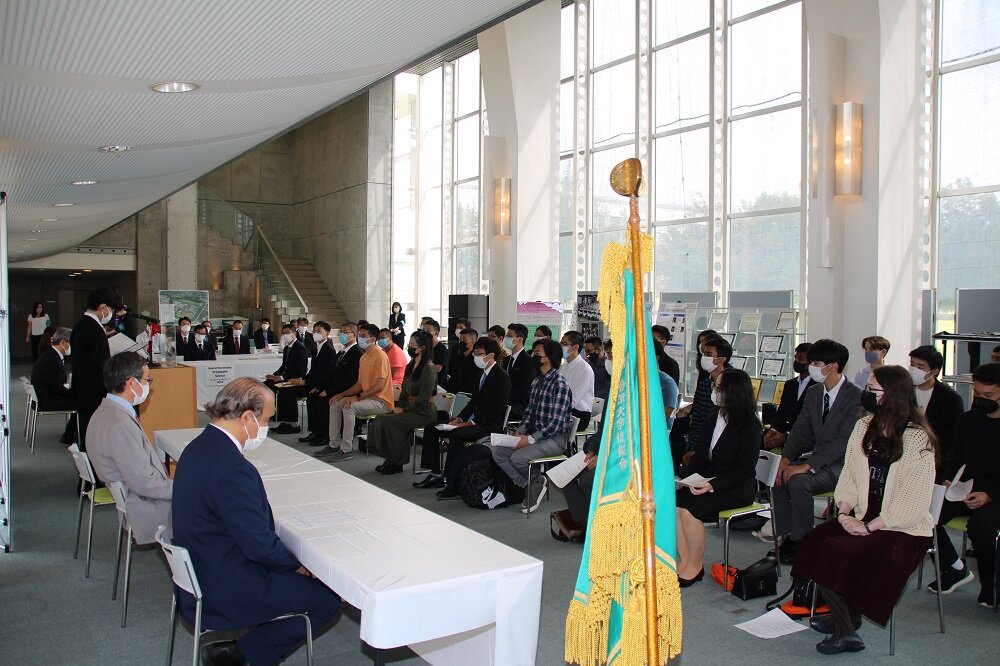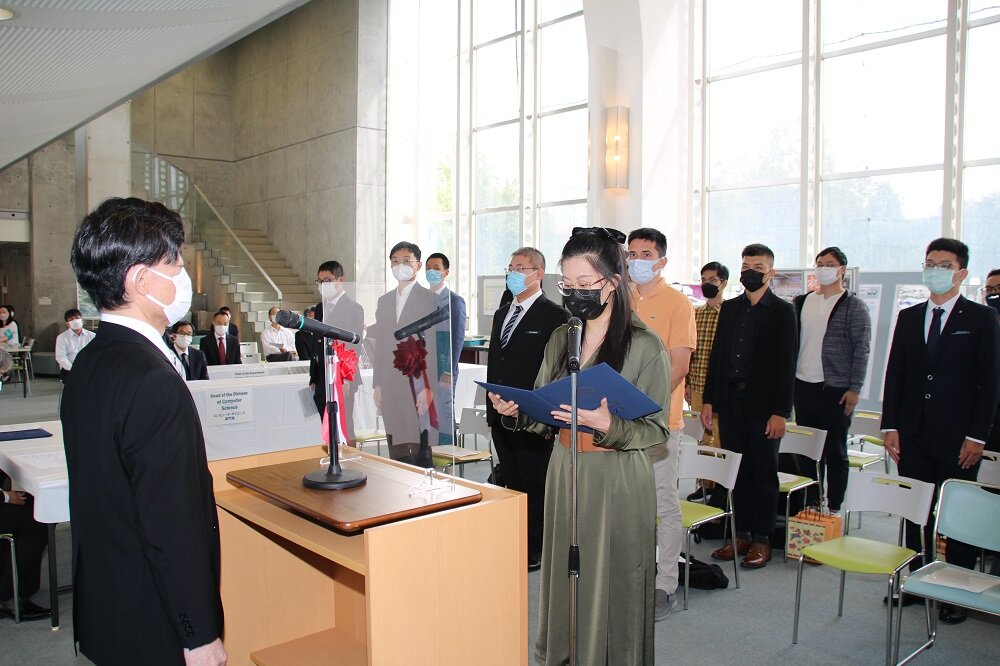 Ms. PENG Yuhan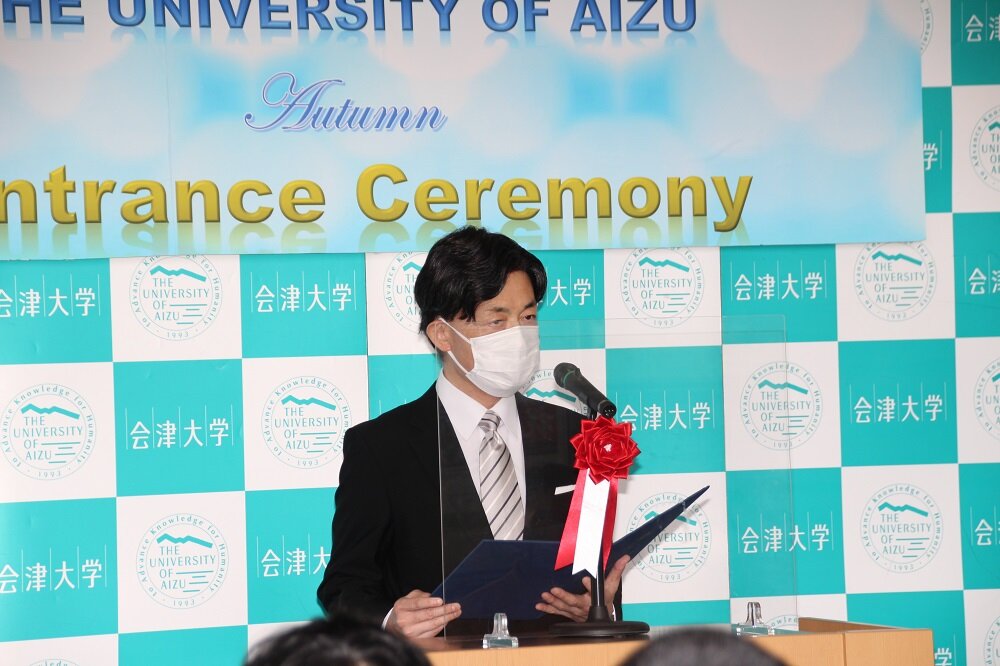 Today we welcome the 46 new students to the University of Aizu, including 17 new undergraduates, 23 new master's students, and 6 new doctoral students.
It is our great pleasure to welcome those of you taking your first steps as the newest members of our university.
The University of Aizu was established in 1993, and focuses on research and education in Information and Communications Technology or ICT.
Have you ever heard of the word: "Society 5.0" or "Digital Twin"?
These are terms that represent our future world supported by ICT.
In the Digital Twin concept, there are two worlds.
One is the physical world in which we are living, and the other is the cyber world that is realized in computers connected by telecommunication networks.
It is a digital copy, a twin, of the physical world, like two sides of the same coin.
In the cyber world, any events will be simulated and informed to the physical world immediately.
Then, each of us can naturally get useful information and the services that we want in a timely manner without using a smartphone or PC.
The realization of the "Digital Twin" is a very hot topic in Japan and around the world.
The University of Aizu is expected to contribute to the realization of the "Digital Twin" concept by developing cutting-edge technologies in areas such as AI, IoT, Robotics, and big-data analysis, as well as specialists in each of these areas.
Of course, you can study all of these subjects at our university.
Our campus is a highly international environment with many international faculty members and students from all over the world.
Since its establishment, our university has produced a wide variety of research results and talented computer scientists and engineers.
The door to the promising world of ICT has been opened to you today.
I hope that you will lead a fulfilling student life by polishing your intelligence and humanity at our university.
Today, I would like to ask each of you to do two things.
First, "study hard!"
ICT field is one of the most competitive research fields.
Many young and talented people are studying hard all around the world.
If you really want to survive in the ICT field, you have to compete with them. To get a bright future, just study hard.
Second, "listen to your neighbors!"
There are many people around you, including professors, staff, classmates, clubmates, and residents living in this city. Please socialize with them. They will help to point you in the right direction for your future.
Once again, congratulations on your admission, and welcome to the University of Aizu.
October 3, 2022
MIYAZAKI Toshiaki,
President of the University of Aizu