1. University Residence "Somei House"
The Somei House, established in 2011, has served for the purpose of supporting students from all over Japan and the world by helping them raise their social awareness and cooperativeness through communal living, and raising their motivation to study so that they can go through their student life in a smoother manner.
Please click here how to apply for Somei House.
For the current residents, please click here [Internal Access Only]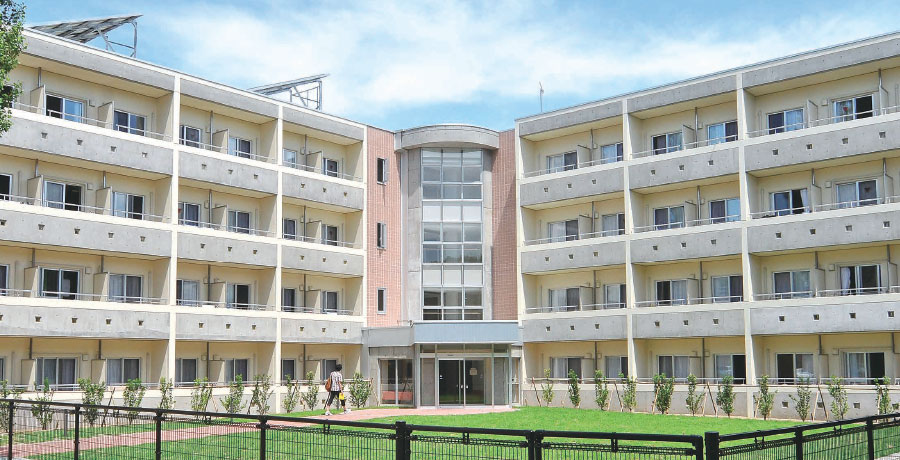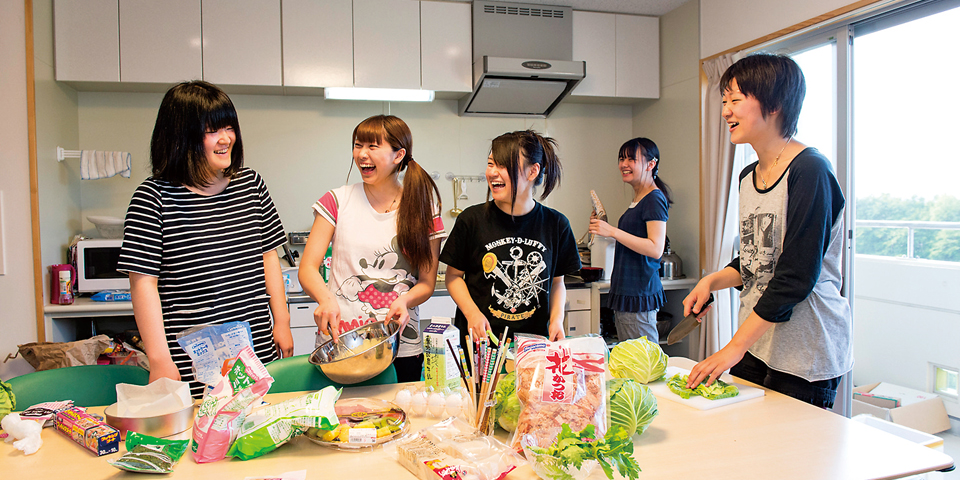 Address
90 Kami-iawase, Tsuruga, Ikki-machi, Aizu-Wakamatsu, Fukushima, 965-0006
*ZIP code is different from that of the Unviersity
Campus map
Building
Reinforced concrete 4 Floors
Photovoltaic Systems built on the roof of the building supplies part of electricity used in the residence.
Capacity
80 students (Male 70, Female 10) ※Not included SRA (Somei House resident assistant)
Eligible students to apply
Grade 1 students of undergraduate course
International students except receiving scholarship by government
*If number of applications exceed the capacity, the university select students among them.
Lengh of living
Maximum 1 year
Entrance in April
April 1 - March 15
Entrance in October
October 1 - September 15
Room
<Single Room>
Size : 10㎡
Equipped furniture : air conditioner, desk, chair, wardrobe, internet connection
*Rooms for disabled person are available

<Twin Room>


Size : 10㎡ or 12

㎡




Equipped furniture : air conditioner, desk, chair, wardrobe, internet connection



Equipment in Communal Spaces
Shower(no bath tub), toilets, wash basins,kitchen, refrigerator, TV, microwave oven、rice cooker, vacuum cleaner, wash/dry machine
Fees
Rent
19,000 JPY (single room), 10,500 JPY (twin room)
Utilities / month
5,800 JPY (single room), 4,800 JPY (twin room)
Room cleaning fee

18,000 JPY

*Fee for internet connection is included in the boarding fee.
*Room cleaning fee is nonrefundable fee for the cleaning of individual residence rooms and curtains upon move-out.
Meals
Self catered(=no meals included) *residents can cook in the kitchen or use university cafeteria.
SRA
Somei House resident assistant(SRA) lives in every unit. SRA supports other residents of their campus life and organise events of the residence.
Note
Somei House is managed by the Univesity of Aizu and no professors/staff of the university resides in.
2. Apartments, Boarding Houses
Standard rents in Aizu-wakamatsu city are as follows:
*The University does not mediate private flat. Please contact real-estate agency directly.
| Types of housing | Rental fee (per month) | Main equipments |
| --- | --- | --- |
| Apartment | ¥30,000 - ¥50,000(*1) | With kitchen, bath and toilet |
※ The following matters are worthy of special attention.
Costs incurred when renewing or terminating a contract mid-term
A guarantor is needed to finalize a rental contract(*2)
To keep your contract and receipt for your deposit and key money safely
Payment of utility bills such as electricity, gas and water
Handling of rent and board during long periods of absence
Distance from the University and means of transportation
(Please remember to consider transportation to and from the University during periods of snowfall.Commuting by car is permitted.)
(*1)...Besides rental fee, it is general to pay a rental deposit, key money and real estate agent's fee in case you finalize a rental contract in Japan. Details are noted as below.
(*2)...The University provides the system to be a joint and several guarantor for international students' rental housing.
For details, please see "Comprehensive Renter's Insurance for Foreign Students Studying in Japan" shown below.
Payment method

| Types of fee | Amount required | Description |
| --- | --- | --- |
| Deposit | 1 or 2 months' rent | Deposit to cover unpaid rent and facility repairs.The owner may apply this deposit to repairs of the premises and furnishings when the tenant moves out. The remaining balance is refundable to the tenant. |
| Key Money | 1 or 2 months' rent | A temporary payment made to the owner when you rent a room. Not always charged. Please note that it is not refundable. |
| Real estate agent's fee | 1 month's rent | Intermediary fee paid to the real estate agent. |
Comprehensive Renter's Insurance for Foreign Students Studying in Japan.
In Japan, a guarantor is required when renting private flat. This insurance is essential when the University co-sign rental agreement.
For more details, please contact the Student Health and Welfare Services Section.
| Period of Indemnity | 1 year | 2 years |
| --- | --- | --- |
| Premium | ¥ 4,000 | ¥ 8,000 |
3. University of Aizu International Student House Ⅰ&II
Student Life Support(SLS) manages and operates two dormitories, "The University of Aizu International Student HouseⅠ&Ⅱ", for the convenience of International students.
Click here for SLS website.
*Please inquire to SLS directly.
Capacity
Student House Ⅰ...6 persons
Student House Ⅱ...5 persons
Room rental fee (monthly)
(4.5/6-mat Japanese/western room) ¥8,000-¥15,000
Service fee (monthly) *excl. electricity
First term(April to September) ¥5,000
Second term(October to March) ¥8,000
Deposit(for room cleaning)
¥10,000 (refunded when moving out)
Car park (monthly)
¥3,000