Mr. Taichi Komine, a third-year student (a second - third-year during the program) of the University of Aizu, has returned from U.S.A after finishing his 5-month credit transfer study at the Rose-Hulman Institute of Technology, Indiana. His study at RHIT was organized by CSIP of the University of Aizu and supported by a special scholarship awarded by JASSO foundation.
Here is the report from Mr. Kimine about his study at RHIT.
Report of study at Rose-Hulman Institute of Technology
Taichi Komine, a third-year student of the University of Aizu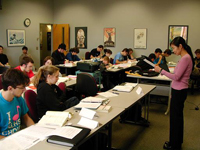 I studied abroad at Rose-Hulman Institute of Technology (RHIT), which has credit transfer system with University of Aizu, using overseas study programs of JASSO (Japan Student Services Organization) for about five months between the end of February and the middle of July, 2010. Since I have been to RHIT on a short term overseas study program of CSIP and had some friends there, I was not nervous. But living abroad for a long-term period and taking classes for credit transfer made me nervous.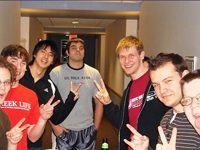 Class system at RHIT is different from other universities. They have their classes at the same time on each day, and they are invariably assigned homework. Also, since RHIT students live in dormitories, student life at RHIT is quite different from mine in Aizu where students live in apartments. My class started in the early morning and ended by the noon because all classes I took were taught between the morning and the noon. After that, I would have lunch, do my homework and research beforehand, audit a class sometimes and play with my friends at night.
When it was the beginning of the quarter, I was confused by exercise classes which I was not used to, and unable to understand course content well. However, I got used to those exercise classes in three weeks. I started to be able to understand course content within a class.
When there was something I could not understand well, professors and my friends would help me nicely. I could also ask a professor during office hours, so I kept from falling behind in class.
Through the quarter, I found out that students at RHIT make presentations and work as a group in class. I worked on a final project with a partner, but we could not set up a meeting as we planned and I could not exchange my opinions with my partner. So we took advantage of our best skills. I made the program and circuit board, and my partner wrote report and user manual.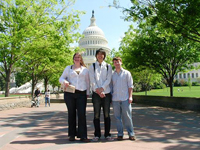 During the spring break, me and my friend, who was the first exchange student from RHIT to Aizu, traveled to New York, Washington D.C. and other famous places in his car. Since I had never gone to other states besides IN, it was really good experience to see America's urban areas.
As well as my English improved, I also learned American mindset, humanity, differences in culture, and good points of Japan. I would like to tell UoA students these valuable experiences, and put to account for my campus life. And I want to find next chances to gain more international experience.