Ms. Yukari Sekiguchi, a third year student(during the program) had returned from University of Waikato, New Zealand on the Mid-Term Overseas Study Programs for Academic Year 2014.
Here is his report on his research, internship and daily life in New Zealand.
A regular report from University of Waikato (Dec, 2014)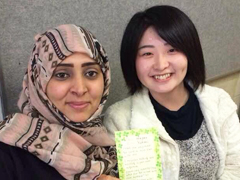 I went to study abroad at University of Waikato in Hamilton, New Zealand for six week. I met many good people and I had opportunities to be true to myself. In University of Waikato, there are about 13000 students and 2800 students who come from different countries. The lot area is 68 hectares.
I went to New Zealand with two aims. Firstly, I research about "Speech Intelligibility of Japanese Speakers". Before I went to New Zealand, I made sound file which students in University of Aizu spoke English sentences. During my stay, I asked University of Waikato students and my host family to write down what they hear from the sound files and rank difficulties on a scale of 1 to 9. I'm going to continue the research as my graduation thesis.
Secondly, I made some short movie as Digital Storytelling about introduction at University of Waikato and Hamilton in New Zealand. During staying, I took many pictures, short video and interview. Now I'm editing the movie. So I want to help students who will go to study abroad in New Zealand by showing Digital Storytelling and presentation.
Also I went to go to Language school at Waikato Pathway College. I took classes from 9 am to 2 pm or 4 pm. We had a discussion, pair work and group work. Actually it was very hard for me to roleplay and to have to disagree with other opinion in group work. But in class, there were many students who came from different countries and there were a lot of situation which they said different type of view and opinions. Therefore, it didn't take a long time to get used to discussion and it was good environment to say my opinions. Also I realized these are very important to be true to myself deeply.
After finishing classes, I participated in Japanese club, English club, and sports club. These club's students were very friendly and kind, so they taught me many things. It was my first time to go overseas alone, so I was nervous when I left Japan. But thanks to them, it disappeared and I had a good time with them.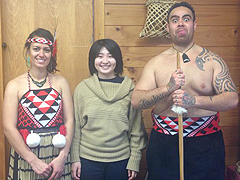 I stayed with my host mother, father, sister, and roommate who is from China. I had never done homestay. My host family took me tourist spots and supermarkets. In holiday, host family's relatives visited our home and I spent very good time with them. It made me relaxed. Actually, sometimes I couldn't understand a talk of my host sister, who are three years old. But she always brought toys and we thought how to play without words. I enjoyed it. During my stay, there was a father's day. I was glad to celebrate my host family's events together and I appreciated my host family to take care of me.
In New Zealand, there are many people who come from different countries. Most of them are friendly and I felt close to them. Sometimes I had a hard time to stay in different country, but my friends and host family gave me advice. So I enjoyed this program. I will never forget I learned from classes and my experience in New Zealand.
Finally, thanks to my family, teachers, CSIP staffs who supported me, I could learn many things in good environment.