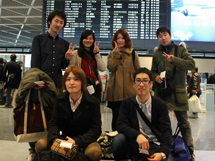 Six students of University of Aizu (UoA) had finished their three-weeks Overseas Programs from March 4 through 26 in 2012 at Rose-Hulman Institute of Technology in Indiana, USA on UoA's Short-term Overseas Study Programs and JASSO Scholarship for Academic year 2011.
Here are their reports on their research and daily life in USA.
Participants
UoA Overseas Study Program
JASSO Scholarship for Short Visit Program
Grade during the program
Study Program
Ryo Taguchi
In this report, I would like to mention the differences of classes between UoA (University of Aizu) and RHIT. I would also like to introduce my ideas about English, which has been changed through this program.
I took some classes, including computer science class during this program, but these assignments are basically like a project and students belongs to one group which be composed of some students who were randomly chosen by their professors and work through the assignments with other group members. I was surprised because many students can communicate with their group members without hesitating or embarrassment. Moreover, I noticed that some students raise their hands and ask for professor as soon as they have questions or find professor's mistakes. I was influenced by their aggressiveness.
Next, I will mention my changed ideas before and after studying abroad. I can talk with many people who come from various countries and get many things such as different opinions or ideas and cultural differences from them. It became a valuable experience for me, but I could not represent or tell them my opinion and ideas perfectly, so I regret about it. Then I thought "I want to be able to use English better and talk more with them". I think I could find an answer to my question "Why I study English".
I would like to take advantage of those experiences and my changed ideas for my destination and next opportunity to study abroad.
Ryohei Suda
Although we can communicate with international students and professors by English in the University of Aizu (UoA), I think it will be good incentive for future English study if we experience our environment with English only. Therefore I entered this program.
I took 4 classes since regular students also take 4 classes during one school term. Because there are 3 school terms and summer vacation in one year at the Rose-Hulman Institute of Technology (RHIT), I think the school terms are a little shorter. The period of one school term is about 3 months, but we can take highly concentrated classes, hence the same class is held 4 times in a week. Instructors usually remembered names of their students and said jokes in the classes, so the atmosphere in the classroom was cordial. Additionally, the students asked questions to the instructors aggressively, thus I felt that the students and the instructors made the class together. I was surprised that the students got practical training by solving assignments of programming in pairs.
I thought that it is no big problem to take classes in English because I have taken classes in English at the UoA but I could not even catch one third of the contents. I could understand by reading the slides carefully. I felt that teachers in the UoA talk carefully and slowly.
I lived at a dormitory in the campus at RHIT. The most surprising thing was that everyone opens the doors of their rooms anytime. I thought it is good to communicate if the doors are opened because we say hello when someone crosses in front of the doors. When no one is in the room, the door is opened, so it may be there is public safety in RHIT.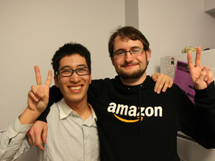 The 3 weeks passed so quickly but I spent highly concentrated time because so many people were kind and took me so many places. Sometimes I could not express my ideas because of my low English skill but it makes my motivation for English greater. I want to make this experience of American life and culture useful for my future study. Additionally, I want to tell this experience to many people and then I hope they are interested in English and in studying abroad.
Yurika Hashimoto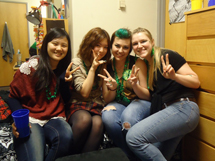 I took 5 classes at RHIT and all of them are really impressed me because they are quite different from Japanese lessons. I found the students frequently ask some questions and say their opinions during the classes. Teachers always make jokes and try to make the class more amusing. Moreover, although Rose is an engineering school, there are so many humanities classes. I took some interesting classes that I can never take at the University of Aizu.
Also, I found that many Rose students spend their free time more actively compared to Japanese student. Many students play sports and games with friends, but they also do much homework every day. They are always full of vitality and I learned from them.
Finally, I appreciate all Rose student's help and kindness. I had a really good time at Rose. I will study English hard from now and want to go back someday.
Hidehito Sawai
I participated in short-term Oversea Study Programs at Rose-Hulman Institute of Technology (RHIT) in March 2012 to study English and Computer Science. I will introduce my college life.
My classes had a lot of team activities. However, students were very effective in classes instead of depending on other people. In the class, at first, I was very difficult to understand what teachers said. But finally, I could even teach answers my friend. The amount of home work was a lot. It was not easy for me to complete.
I went to many restaurants for dinner, and I often ate hamburgers, pizza, chicken and steak. It was a good experience. The students often have a party on Friday night. They were very excited and I was very fun to watch them. They always do their best about studying and playing, and I want to live like them.
This program was the best experience in my life because I met wonderful roommates and many people. I am really thankful for them. If I could have opportunity to meet them again, I want to tell what I thought, so I want to keep studying English.
Motohito Yoshida
During this training program, I had the one of my goals which was to "Find out what are the differences between Japanese classes and the overseas classes". Then without a doubt, my view of the world changed because of this program.
I had heard in the lectures that teachers and students are friendly, and there are many remarks about class from students. Every student does things with a sincere effort, like practice and homework. I knew that, but once I actually jumped in and experienced it, I was surprised. One of the most different points between Japanese and RHIT class I found is the style of the homework. One day, the Professor gave one handout to every student and told them to solve this problem by working with friends and to submit the report along with your name and the name of friends to cooperate with by the deadline. When I heard that, exactly I was reminded about my narrow values that I have to do my homework by myself. In Japan when we do our homework, we don't help some friend it is O.K. just only to give advice or hints. That is why I was so surprised.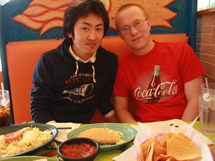 I also had many great encounters outside of lectures. I cannot count how many people I saw, and I'm sure I made a lot of friends who are valuable for me. It is difficult to convey in my words and I cannot say anything except thank you because of seeing them, becoming friends with me and getting along with me. I really don't know how to thank them. Through such encounters, I thought it was fun to communication with other people in English. My English skills are not good like native speakers and are so poor. But using English with people around the world makes us connected and help us, understand each other. These are very amazing things, I think. Now looking back on my experiences studying abroad, the time flew by quickly. So many meaningful experiences are very valuable assets for me.
From now, I'll clearly compare my experiences from this training with my goals before going abroad. Then I'll try to know what I could do and couldn't do in order to connect with the opportunity of study abroad in the future. I also intend to improve little by little my shortcomings and problems with hindsight after coming back to Japan.
Ayaka Ohno
I have experiences to enjoy the life together with the international students ever since I came to University of Aizu last year, because of which I wish I can study abroad strongly. Fortunately there is a precious chance for me to study in Rose-Hulman for 3 weeks. During such a time I am sure I will feel out an open environment in class which is absolutely different from Japan. Furthermore I will be able to get a positive answer immediately even if I have any questions in class.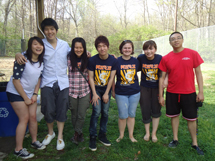 I can feel the kindness and of Rose students although I could rarely speak out English. Many a parties will be held on weekends as well as the immense delicious restaurants for lunch and dinner will also give me a lot of fun.
Such experience will be funny although there are still lots of difficulties. I will also learn some pronunciations and grammars that are difficult for me to understand during the 3 weeks. Also in fact the different culture may be able to give me a precious experience that is good for me further study. Because of this my English ability could be important and my consideration will be much more rational. I have the determination to improve my English during the time when I study in America for the second time. Based on the above reason I strongly wish I can get the change to study abroad.